Latest
source: JTB WORLD Blog , Up and Ready Blog
NOTE: Standalone and networked software have different Serial Numbers.  You must have a serial number for the one you want to change it to, either standalone or networked.  If you change it to a network, then you must create a LICPATH.lic file
Example : SWITCHING TO NETWORKED Naviswork Simulate 2013, after applying the registry hack to your standalone software you must also create and save the LICPATH.lic file – below is an example:
the LICPATHLIC.lic file will be located here:
C:\Program Files\Autodesk\Navisworks Simulate 2013
and will contain 2 lines as shown:
=======NOTEPAD=================
SERVER MYSERVERNAME 000000000000
USE_SERVER
===============================
Where:
MYSERVERNAME = the name of your server that LMTOOLS (the license manager) is installed and running.
The "000000000000" is the unimportant MAC address, just leave them as zeros.
===============================
NETWORK TROUBLESHOOTING CHEAT SHEET
===============================
Sometimes it can be useful to convert a standalone license to a network license or the other way around. This works for AutoCAD and for verticals like AutoCAD Architecture, AutoCAD Electrical, AutoCAD Civil 3D, AutoCAD Map 3D, AutoCAD Mechanical, AutoCAD MEP, AutoCAD P&ID, AutoCAD Plant 3D and AutoCAD Structural Detailing. It can be done with a simple registry hack (start the Registry Editor with regedit.exe and take backup of the registry to be on the safe side).
For AutoCAD 2011 locate this key in the registry:
HKEY_LOCAL_MACHINE\SOFTWARE\Autodesk\AutoCADR\18.1\ACAD-9001:409\AdLM
In that directory change the type for the installation that you require:
1 – Network
2 – Standalone
3 – Multiseat Standalone
For AutoCAD 2012:
HKEY_LOCAL_MACHINE\SOFTWARE\Autodesk\AutoCAD\R18.2\ACAD-A001:409\AdLM
A tip is to locate HKEY_LOCAL_MACHINESOFTWAREAutodeskAutoCAD first and then you will find the version (R18.2 is for 2012 products) and then the vertical (ACAD-A004:409 is for AutoCAD Architecture 2012).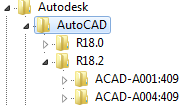 Via Up and Ready
Change AutoCAD from standalone to network describes how it works for AutoCAD 2008 and older versions.
Change AutoCAD network to standalone to network describes how it works for AutoCAD 2009 and AutoCAD 2010.
Change AutoCAD 2013 network to standalone , Up and Ready Blog Change AutoCAD 2013
Change 2014 product from standalone to network
Change 2015 product from standalone to network JTB WORLD